Prosta Specyfikacja

Łatwe zamawianie

Szybki montaż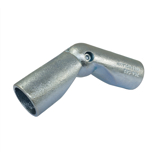 764 - DDA Assist Inline Adjustable Knuckle*
An inline adjustable knuckle often used where a horizontal rail is joined to a sloping section while achieving a smooth finish to the rail.
Once the desired angle is obtained, the knuckle is secured with a recessed cap screw for a smooth finish.
*This fitting must be used in conjunction with 2 x 150 C42 inline expanding connectors or with other assist expanding fittings which provides excellent versatility.
| | | |
| --- | --- | --- |
| Rozmiar | Waga (kg) | Box Qty* |
|   C42 |   0.59 |   42 |