Prosta Specyfikacja

Łatwe zamawianie

Szybki montaż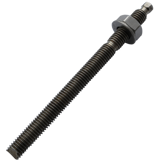 Threaded Stud
Threaded Studs are suitable for use with Injection Resin. Supplied complete with a nut and washer. Commonly used on concrete, stone and brickwork. Recommended for use with Injection Resin.
Available in BZP, Hot Dip Galvanised & Stainless Steel finishes.
For more information, please Contact Us.
Image shown is a generic product. Final ordered product may vary.
Do not perform any pre-drilling, tube cutting, casting uprights or any other dimensionally critical processes prior to receiving fittings.